"The greatest scientists are artists as well."
Because Science is a love letter to all things STEM, particularly the fusion of art and science. A lot of the products you'll find here and in our shop are handmade in our very own design lab, while some are the brainchild of other creators. We celebrate it all because science literally makes the world go 'round.
Because everyone loves a good origin story.
Our Story
Ever since I was a kid, art and science have battled for my attention. At the age of 14, I started Beadwork by Amanda to sell my jewelry at craft shows, mostly because my creative output exceeded my family's capacity for "just one more piece." 
But when it came to academics, science stole my heart, and I took it all the way to a chemistry PhD—in semiconductors, no less! You can probably guess where this story is headed…
I discovered broken circuit boards in the lab while attending Rochester Institute of Technology (RIT), and decided to experiment by casting them in resin to create pendants. The result was striking, and craft show customers fell in love with the interplay between art and science. Circuit Breaker Labs was born. 
As interest grew, my days were spent synthesizing quantum dots (tiny semiconductor crystals) at the University of Rochester, while nights were all about perfecting my artistic process.
This is the part of the story where both paths converge.
After successfully defending my PhD thesis in 2016, I directed all my energy toward growing the business. We are now one of the most prolific creators of handmade and custom circuit board art in the world, and it's all made in our Washington, D.C. studio. 
In 2021 we expanded the business to celebrate all STEM disciplines, not just the "T," so Circuit Breaker Labs is now an exclusive product line within our broader Because Science store. Here you'll find our handmade jewelry alongside stuffed axolotls and periodic table socks. Because we love those things too. 
We invite curiosity so have a browse and ask us anything. Really. We love to talk shop.
- Amanda Preske, Founder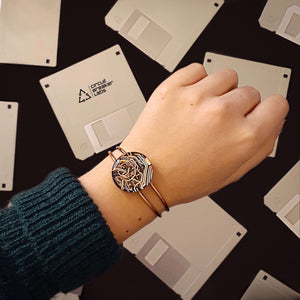 About Circuit Breaker Labs
Discover The Artistry in Science
Our exclusive Circuit Breaker Labs collection of jewelry, art, decor, and more is handmade from upcycled circuit boards, then packaged and shipped from our Washington, D.C. studio. For something totally unique, we also specialize in custom and corporate orders, creating each item to your specifications. What can we make? The sky's (virtually) the limit.
Staff Picks
We're a motley crew of scientists and artists with tastes just as diverse as we are. Here are a few of our favorite things:
Social Justice & Sustainability
Behind everything we sell is a deeper mission to support minorities in STEM and encourage environmental sustainability.
Social Justice is AweSTEM
As a woman-owned business with a diverse team, we use our platform to champion women, BIPOC and LGBTQIA+ in STEM in the hopes of inspiring the next generation of budding scientists. 
Learn more about aweSTEM people in our weekly newsletter and on our blog.
Respect for our Planet
Unfortunately there is no shortage of electronic waste on this planet, so we rescue pieces from the trash and transform them into art. If you have e-waste lying around, exchange it for store credit through our Upcycling Program.
Meet the maker
See us in-person
If you're local to the DMV area or Rochester, NY, there's a high probablility you'll run into us at a crafty or science-y event. Take a look at our Event Schedule to see where we'll be.
Where You Might Have Spotted Us…
visit us
Shop Local
Stop by for gift suggestions (we know our stuff!), events, or just a curious browse.

Because Science Store
1759 Columbia Rd NW
(571) 549-8028
Open Daily 11am-8pm
*Click store info for temporary/holiday hours